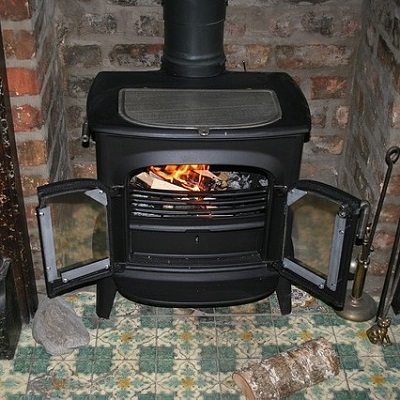 Traditionally, wood-burning freestanding stoves were used in ski cabins and lodges, but today thanks to new design concepts they have become a welcome addition to any home.
Wood-burning stoves can be installed in any room of your house, but most often they are placed in living or dining rooms, as well as in patios. While traditional fireplaces generally work as a piece of décor, free-standing wood-burning stoves are generally used for more practical purposes, namely, for heating and even cooking.
Thanks to new designs, your wood-burning stove will look attractive and still remain perfectly functional. Because it isn't attached to the wall, a wood-burning stove will radiate more heat throughout a small or large room.
Most often, wood-burning stoves are usually built of stainless steel, soapstone or ceramics study stone and brick but can remain sleek and contemporary thanks to new materials such as fireproof glass and stainless steel details. The shape of these stoves is most commonly tall and cylindrical, with built-in wood storage under the burning chamber.
When choosing a new wood-burning stove, keep in mind that the size of your wood-burning stove is determined by the size of the space that needs to be heated. The fire of the stove should be substantial enough to please the eye as well as heat the room, but too much fire can literally turn your place into an oven.
When picking a place to put your new stove, avoid traffic areas such as doors. A stove surrounded by windows may be a good solution. The fire chamber door should face the room. Don't forget to take stovepipe requirements into the account, making sure they are in compliance with your local building codes.
Since wood-burning stoves are not strictly fireplaces, they don't require any clearance between the fire chamber and surrounding combustible materials, such as wood or fabric.
Conventional wood-burning stoves vary in heat efficiency because their construction can be very different, too. The efficiency of a wood-burning stove depends on how much of its combustion energy turns to heat, which in its turn depends on how well it burns wood.
Even the best wood-burning stoves don't burn all wood completely. The smoke is actually composed of unburned wood particles. Another factor that impacts the wood-burning stove's efficiency is how much heat escapes through the chimney.
To improve the efficiency of your wood-burning stove, consider a chimney sweep in the first place. This should be done by a professional fireplace expert. If you noticed that a lot of smoke is produced during the wood burning, you may need to alter the size of your stove opening, or reconfigure the existing fire chamber.
If you notice that a lot of hot air escapes through the chimney, you may consider replacing the fire basket – the metal rack that supports the burning logs. New designs of fire baskets can greatly improve air circulation and heat efficiency.
Wood burning stoves today offer a great variety of looks and designs to suit any home style, from a retro Victorian house to a steel loft condo. Painted black, brushed steel or even red, with stovepipe to match, wood burning stoves with generous glass doors allow you admire the dancing flames during the cold winter season.