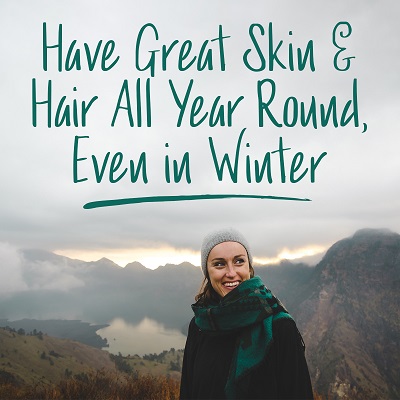 During the winter, you will notice that your hair and skin become drier. This problem is caused by the dry climate-controlled air in your home and workplace. In addition, the colder temperatures can affect your skin and hair.
You may develop itchy skin on various areas of your body, including your knees, elbows and hands. The texture of your hair may also change slightly, making it unmanageable because it is frizzy.
However, there are winter self-care tips for your skin and hair so that you can continue to have soft skin and luxurious hair.
Drink a Lot of Liquids
You may think that you need fewer liquids in the winter, but this isn't true. The cold temperatures of winter can make you extremely thirsty, and if your mouth and lips seem dry, then you are already dehydrated. It is important to drink at least eight glasses of water each day to remain hydrated.
You can also drink fruit juices or milk to remain hydrated, but you should avoid too many caffeinated beverages because caffeine increases urination.
Use Moisturizing Products
When you shop for hair and skin care products, switch to hydrating products that contain more emollients. Buy a gentle moisturizing soap to use instead of a deodorant soap. After you shower or bathe, begin to slather on lotions right away. Add extra moisturizing creams on certain areas of your body such as the soles of your feet or your elbows.
You may need to use a different type of lotion on your face, and the area around your eyes might require a lubricating serum. Don't forget to apply lip balm to your lips to avoid ugly chapped lips. Remember that you can also use a moisturizing shampoo and conditioner in the winter to prevent a dry scalp and hair strands.
Use a Humidifier to Add Moisture to the Air
When you have a humidifier in your home, the device will create moisture in the air. With more moisture in the air, your hair and skin won't become dry. You will notice that your hair is more manageable because it isn't frizzy, and you are also likely to lose fewer hair strands each day. If you wake up each morning with dry skin patches on your knees and cracked skin on your hands, then using a humidifier is imperative.
Consume a Nutritious Diet
You must consume a nutritious diet in the winter to have healthy hair and skin. Make sure to include at least 10 servings of fruits and vegetables in your daily diet. Choose brightly colored produce in order to get enough antioxidants that will fight against the free radicals in your body's cells. Some of the best foods to include in your meals are dark leafy greens, bell peppers and tomatoes along with blueberries and oranges. You can also improve the condition of your skin and hair with the omega-3 fatty acids that are in fish such as tuna or salmon.
Begin Caring for Your Hair and Skin as the Temperatures Drop
Plan to begin caring for your skin and hair as the temperatures begin to drop so that you won't need to cope with dry skin patches and frizzy hair.