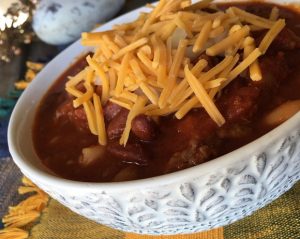 This slow cooker chili gets a nice boost of flavor by using a combination of spicy and sweet pork sausage, rather than plain ground beef. To turn up the heat even more, use all spicy sausage instead.
Tip: Crumble the bulk sausage with your fingers prior to browning. This gives you better control over the size of each piece and is easier than breaking up the chunks of sausage with a wooden spoon while cooking.
Another alternative is to use a potato masher, if you have one.
Ingredients

1 pound spicy bulk pork sausage, crumbled
1 pound sweet bulk pork sausage, crumbled
½ c. chicken or vegetable stock, plus additional, if needed
4 cloves garlic, finely chopped
1 medium white onion, finely chopped Continue reading →