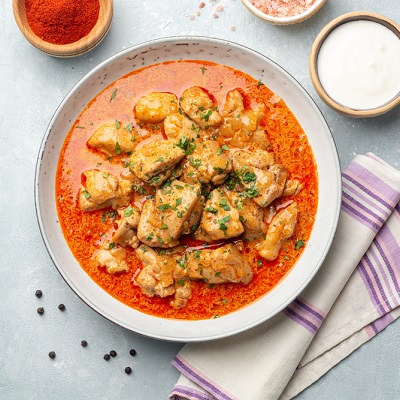 Paprikash is so savory and delicious, but it really needs something in the neighborhood of a starch to sop up all of the rich, buttery and oniony goodness. Since this is a keto version of the traditional recipe, we will substitute a regular starch such as rice, potatoes or pasta, with keto-friendly Japanese "miracle" noodles – otherwise known as miritaki.
Ingredients
1 whole chicken, cut into parts – thighs, legs, breasts
2 Tablespoons olive oil
3 Tablespoons butter
2 cloves garlic, minced
1 onion, chopped
4 Tablespoons paprika
1/2 red bell pepper
1 cup chunked whole canned tomatoes
4 cups chicken broth
1 Tablespoon heavy cream
1 cup sour cream
salt and pepper to taste
1/4 cup chopped parsley
Directions
Brown the chicken parts in olive oil in a Dutch oven pot. When chicken is browed on all sides, remove from pot and set aside. To the bottom of the pot, along with the chicken brownings add butter, onion and garlic. Sautee all until translucent. Remove from heat and stir in paprika.
To the pot add chicken parts, tomatoes, bell pepper pieces, chicken broth, salt and pepper. Bring to a slow boil, then reduce to a simmer and cook on the stove top for about 45 minutes.
Remove chicken pieces and set aside. Let the sauce cool down for about 10 minutes. Use an immersion blender to smooth the sauce out. Then whisk in the tablespoon of heavy cream.
Return the chicken to the pot of paprikash sauce and let rest. Cook the miritaki noodles according to the instructions on the package. Drain and plate noodles for each person. You can add some salt and butter to the noodles if desired. Place a chicken piece plus a few ladles of the rich and delicious paprikash sauce, over top of the noodles.
Serves 4 to 6.