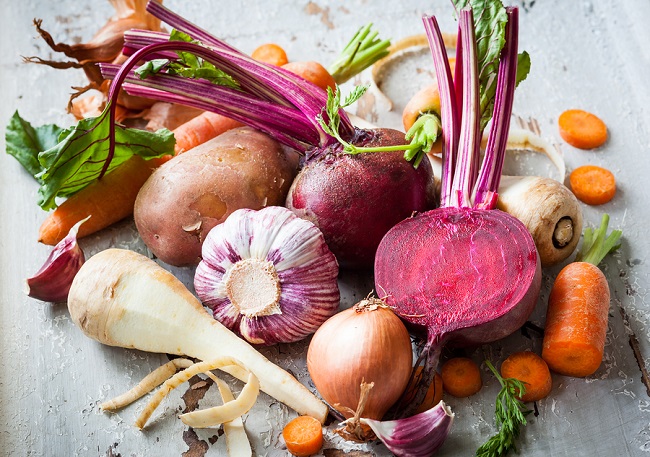 Winter stews do not have to involve meat to be rich and warming. Look for local produce if possible. Root vegetables (onions, turnips, parsnips, rutabagas) are good choices. Cabbage, sweet potatoes, winter squash, carrots, and various greens like kale are in season in winter. Here are some recipes for healthful, satisfying winter vegetable stews using local vegetables.
Squash and Carrot Stew
Serve this pretty orange stew over rice or millet.
Ingredients
3 cups of cubed, peeled butternut squash (you will need a squash that is about 1.5 pounds for this yield)
2 cups chunked, peeled carrots
1 can diced tomatoes (14.5-ounce), drained
1 cup water
1 cup chopped onion
3 garlic cloves, chopped
2 tablespoons olive oil
2 teaspoons paprika (Hungarian sweet paprika will give the stew a rich, smoky flavor, but regular paprika will work)
1 teaspoon kosher salt
1/2 teaspoon each of ground black pepper, coriander, cumin, turmeric, and ginger
1/2 teaspoon cayenne pepper (optional)
2 tablespoons fresh lemon juice
Directions
Sauté the onions in the olive oil until they are soft. Then add the garlic and all the spices. Stir to combine. Pour in the water, tomatoes, and lemon juice. After it comes to a boil, add the squash and the carrots. Simmer the stew over medium-low heat for about 25 minutes. Then stir in the salt and pepper and adjust to taste.
Crockpot Root Vegetable Stew
A crusty, whole wheat artisan bread would go well with this stew.
Ingredients
2 tablespoons olive oil
4 to 6 small shallots, peeled and cut in half
8 chunked, peeled carrots or baby carrots
1 pound new potatoes
2 turnips or 1 small rutabaga, or a combination
2 cloves crushed or minced garlic
1½ cups vegetable stock
¼ cup dry red or white wine
1 tablespoon tamari soy sauce
1½ teaspoons dried "poultry seasoning" or a mix of thyme, sage, and savory
Salt and black pepper to taste
Directions
Scrub potatoes and cut them if necessary so that no chunks are bigger than one and a half inches. Peel the turnips or rutabagas and cut them into one-inch pieces.
Use 1 tablespoon of the olive oil to coat the bottom of a crockpot. Put in the shallots, carrots, potatoes, turnips and toss them to coat them in the oil. Add the salt and pepper, pour in the liquids, and sprinkle on the herbs. Drizzle the remaining tablespoon of olive oil over the stew. Cover and cook on low for 6 to 8 hours.
This recipe can be adapted to a pressure cooker or stovetop cooking. For stovetop cooking, heat the oil first and add all the ingredients; bring to a boil, reduce heat to simmer, and cook for an hour and a half. For pressure cooking, proceed as for the stovetop, bring to pressure, then reduce heat to low and pressure cook for 25 minutes.