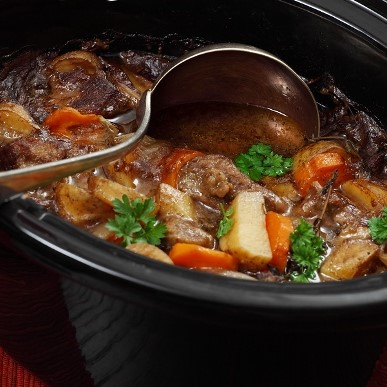 The cold weather months are excellent for hearty comfort foods that warm you up and keep you full. Delicious soups, stews, and hot casseroles abound – so good that you almost don't miss the warmer weather.
Even better, many wintertime comfort foods can be made without spending a lot, and they go a long way. You can feed a big family or make enough for a week's worth of meals, and spend very little money on each serving.
Save Time
Often, people tend to slow down during the winter. Maybe it's the cold, or maybe it's the layer of ice or snow which is keeping everyone, but people tend to move slower and take their time. All that extra time spent bundling up and thawing out means you don't have a lot of extra time to cook a gourmet meal. Luckily, winter is the best time for some deliciously simple meal ideas.
Slow Cooked
Slow cookers, or "crock pots" as they are also called, are the perfect solution for family meals on the go. Simply put your ingredients in the cooker in the morning, turn it on, and then come home to a delicious hot meal waiting for you. Most recipes are so simple you just throw everything in and go; others require very little prep.
Fix It and Forget It
Winter cooking is a great time to make use of some super easy "fix it and forget it" type meals. For example, a pot roast with some chopped veggies can be thrown into the oven and a timer set, cooking to perfection while you relax or get some other tasks done.
Savory Staples
To save money and keep your tummies full and satisfied, look to stocking winter staples. Root vegetables like carrots and potatoes go well in just about any savory winter dish, keep for quite a while, and are almost always some of the cheapest produce your grocery store has to offer.
Pantry Perfection
For simple, delicious, and hot meals to warm you up when the weather gets cold, look to an easily stocked pantry. Canned goods, rice, and pasta make for fast, easy, and cheap casserole ideas that cost even less than the time it takes to throw them together.
Extra Tips
Keep it simple – The simplest meals are often the most delicious, especially during the winter when anything hot and savory really hits the spot. Very few ingredients can go a long way.
Prep ahead – A little extra prep in the morning, or even spending time to prep once a week, can make meal times easy in the wintertime. For example, chopping up veggies and putting them in bags in the freezer cuts down on time and makes it super simple for you to just grab them whenever you need to.
Coupons – Most coupons tend to be for canned and boxed goods, so winter is the best time to make use of these pantry staples and save a lot of money.
Winter cooking is easy when you utilize some of these simple solutions. Not only can you make hot, satisfying meals, but you can also save money in the process.