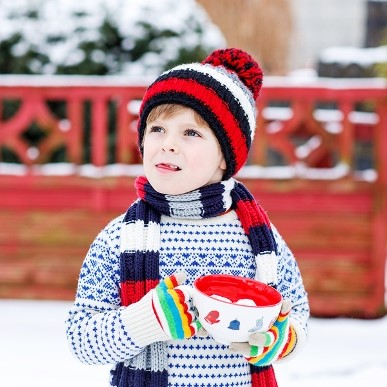 People on the run often choose a cold breakfast or no breakfast at all because it's the quickest. In the colder months, however, a cold breakfast simply won't do. Why not try one or more of these nourishing winter warming breakfasts to help you prepare for your day.
A big bowl of hearty oatmeal is a great choice for a cold winter morning. Oatmeal doesn't have to take a long time to prepare. Get it started before you get dressed and it should be ready to eat when you're done. Soak dried fruit such as raisins, cherries or cranberries before stirring them into the bowl to add depth of flavor. Cinnamon or nutmeg would also be good as additions.
Whole wheat bread is better for you than bread made with refined flour. Use whole wheat bread to make French toast or whole wheat flour to make pancakes. Instead of syrup to top your French toast or pancakes, warm up apple sauce and spread it over them.
Barley is a grain often used in vegetable soup but it can also be used to make a warm, nourishing breakfast. Bring 3 cups of water to a boil and then add 3/4 cup pearl barley and 1 teaspoon sea salt. Turn the heat down and cover, allowing the barley to cook for 45 minutes. While the barley is cooking, mix together 1/4 cup honey and 1 cup chopped walnuts. Spread the walnut onto a baking sheet and bake them in an oven set at 350F for 10 minutes. When the barley is cooked, add 1/4 cup brown sugar and 1/4 cup currants. Spoon the walnuts over four bowls of cooked barley.
You can't find a heartier breakfast than an omelet when it has beans, seeds or nuts added to it. Sauté some onions, then add some precooked black beans and chopped almonds. Beat enough eggs for the number of omelets you're making and pour that into the onion and bean mixture. Sprinkle fresh herbs and cheese over the top and allow it to finish cooking.
Don't be afraid to try foods that aren't traditionally thought of as breakfast foods. A thick, warm rice pudding with fruit can be just the thing you need to fill you up and keep you toasty on the inside. You can also use leftover rice from the night before to make rice with cinnamon and raisins. Heat up the rice in a saucepan and add enough milk to moisten it. Add cinnamon, nutmeg and raisins. Cook this over low heat until its warm and then enjoy it.
Prepare hot chocolate, tea or coffee to finish off your nourishing winter warming breakfast. If you start your winter days with hot food, you'll provide your body with much needed warmth and give you energy you need for your day. What warming breakfasts can you think of that you can make for your family this week?