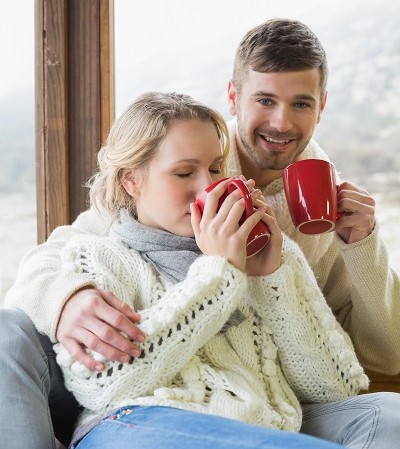 Few things keep the chill away like a hot drink in the wintertime. There are traditional wintertime drinks, like tea and hot chocolate, but also more unusual ones like pumpkin lattes.
Here are some ideas and recipes for drinks to keep you warm this winter:
Crockpot Pumpkin Spice Lattes
Did you know you could make lattes in your crockpot? Put the ingredients in the crockpot, turn it on, and visit with friends and family while the hot drink makes itself. This recipe makes 4 servings.
Ingredients
4 cups 2% milk
1/4 cup pureed or canned pumpkin
1/4 cup sugar (use brown sugar for a richer flavor)
1/4 cup vanilla extract (if this seems like a lot – and it is – you can use the less expensive imitation vanilla flavor with good results)
1 teaspoon pre-mixed pumpkin pie spice (if you don't have this, use 1/2 teaspoon ground cinnamon and 1/4 teaspoon each of nutmeg and cloves)
1 1/2 cup brewed, strong coffee (you can use 1 cup of espresso instead if you like)
-whipped cream for garnish
Pour the milk and coffee into a 4-quart crockpot. Using a whisk or a fork, stir the rest of the ingredients (except the whipped cream) into the milk and coffee mixture. Stir it briskly. Heat on High for 2 hours or Low for 3-4 hours. Whisk again just before serving in mugs. Top with whipped cream sprinkled with cinnamon.
Spiced or Mulled Wine
In a saucepan, boil together:
1 quart of sweet wine
1/3 cup brown sugar
half a vanilla bean (if you don't have a vanilla bean, stir in 1 teaspoon of vanilla extract after the mixture has been removed from the heat)
1 tablespoon orange zest
one cinnamon stick, broken in pieces
10 whole cloves or 1/2 teaspoon ground
1/4 teaspoon ground nutmeg
Remove the mixture from the heat right after it boils; steep for 20 minutes and serve hot.
Hot Apple Cider
Follow the directions for Spiced Wine above, but replace the wine with unsweetened apple juice, leave out the vanilla, and reduce the sugar to 2 tablespoons, or to taste.
Hot Chocolate for Two
Heat 2 cups of milk in a saucepan until almost boiling. Pour the hot milk into a blender and add:
2 ounces baker's chocolate or 2 tablespoon unsweetened cocoa powder
1/4 cup sugar
1 teaspoon vanilla extract
1/8 teaspoon salt
Whiz this mixture in the blender until smooth. Serve as-is or topped with whipped cream.
Variation: For mulled cider, replace 2 cups of the wine with apple cider.