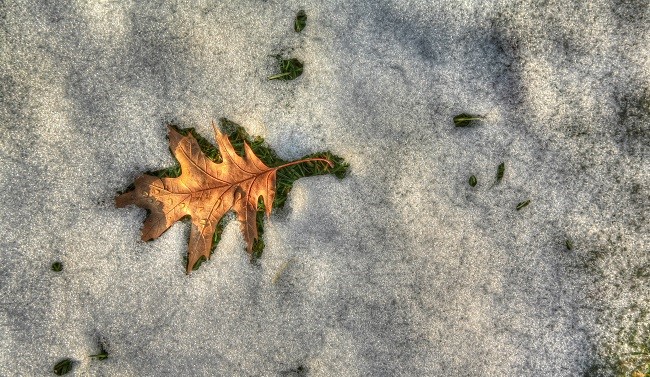 There are a lot of things you'll want to do to your home in the fall to make sure you're ready for the winter. Doing these things will save you money from costly repairs due to damage from the harsh winter weather. So here's your home maintenance checklist for fall.
Print out this honey-do list for your fall tasks this year.
Check the gutters (clean out debris like leaves and check for any holes or problems which might make drainage a problem).
Check the roof (look for damaged or curled shingles, corroded flashing, or leaky vents).
Check walks and driveways (repair cracks or damage now before they become an even bigger problem later).
Drain outdoor faucets and irrigation systems.
Ensure pipes are well insulated to prevent burst pipes.
Make sure you know where the water shut off valve is if you need to turn water off to prevent pipes from freezing.
Check the furnace filter.
Have the furnace professionally cleaned and given a once over, so when you're ready to use it you don't have to worry about it not coming on.
Clean the ducts of your heating system.
Get the chimney swept.
Check your chimney's flue to make sure it has a tight seal when closed.
Get your humidifier ready. Replace the filters and check the plates and pads to ensure everything runs efficiently.
Got a wood stove? Now's a great time to inspect it.
Check to make sure your CO monitors are properly working, and your smoke alarms. Now's a good time to replace batteries.
Caulk any holes you see in walls and put weather stripping around the windows and doors to keep the warm air in and cold air out.
Change out screens for storm windows and storm doors.
Repair any loose or damaged window frames or door frames.
Do a general clean up around the house. Remove old newspapers and leftover hazardous material – get this stuff out of the house now.
Prepare the lawn for the winter by raking, fertilizing, and cutting it.
Prepare your garden for the winter. This includes pruning your trees and shrubs, and trimming tree limbs that are dangerously close to power lines.
Check the attic insulation and make sure it's not covering any vents or eaves of the house.
Check the vents in the ridges and eaves of the house to make sure they are clear of debris.
Make sure there are no holes in any rodent vents you have to prevents critters from invading your home during the cold winter months.
Check on your flashlights. Make sure the bulbs are good and you have fresh batteries in them.
Following this simple checklist should help keep you safe this winter and keep your home safe as well. By fixing it now, you won't be scrambling so much or having to deal with a costly furnace repair in the dead of winter.