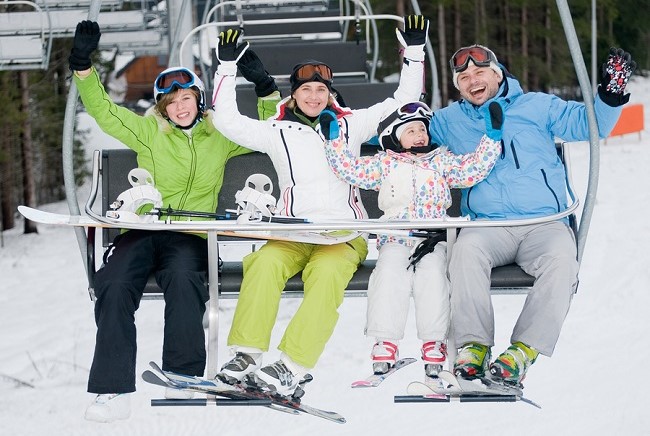 There's nothing more comforting that eating one of these five winter-warming recipes for the whole family. The weather outside may be downright cold, but you'll be warm on the inside. You may want to try one of these recipes tonight.
Indian Chai Tea
Rather than grabbing a steaming cup of Joe, why not try something different this winter? This Indian Chai tea will warm you right up.
3 cups water
3 whole cloves
3 tea bags (black tea)
1 tbsp. whole cinnamon (pieces broken)
2 cups milk
Sugar or honey to taste
In a medium pot, place the water, cloves, and cinnamon on medium-high heat and bring to a boil. Let it boil for at least five minutes or until the water is fragrant and medium caramel colored. Add the tea bags and return to boil an additional minute. Add the milk and let it come back to a boil. Remove it from the heat and take the tea bags out. Pour up a mug of tea and season it with sugar or honey to taste. You'll be warm and toasty in no time!
Crunchy Buckwheat Cereal
You may be used to eating store bought cold cereal, but now that the mercury has dropped, you may want to try Crunchy Buckwheat Cereal for breakfast:
2 cups raw whole buckwheat groats
2 tbsp. maple syrup, brown rice syrup, honey, or agave nectar
1/4 cup nut or seed butter (almond butter is good)
In an oven preheated to 300 degrees Fahrenheit, place a baking sheet with the buckwheat spread on it. Bake this for 20 minutes and then stir it around. Let it cook an additional 15 to 20 minutes until its golden brown. Remove the buckwheat to a bowl and immediately add the sweetener and nut or seed butter. This can be stored in a covered jar in the refrigerator, if it lasts that long. Serve 1/2 cup of the cereal in a bowl with milk.
Hearty Irish Stew
Traditional hearty Irish Stew is a favorite in winter months.
3 pounds boneless lamb shoulder, trimmed and cut into 1-inch pieces
1 1/2 tbsp. minced fresh parsley leaves
1 tbsp. crumbled dried thyme
6 cups chicken broth
3 pounds boiling potatoes, peeled and quartered
1 large finely chopped onion
1 pound carrots, peeled and cut into 1/2-inch pieces
6 stalks celery, trimmed and ribs cut into 1/2-inch pieces
6 tablespoons all-purpose flour
1/4 cup vegetable oil
Find a large kettle, 7 to 8 quart is good, and simmer the lamb, parsley, and thyme in 4 cups of broth. Leave the kettle covered and allow it to cook 1 1/2 hours. After that time has passed, add the vegetables and the remaining broth. Let this simmer covered on low heat for an additional hour.
Whisk together the flour and oil until smooth and then add that, incorporating well, to the stew. Simmer it an additional five minutes until the stew has thickened. Season with salt and pepper to taste and then enjoy.
Turkey Chili
Chili is normally a winter favorite but you may be looking for something different. Try this Turkey Chili and you may not want to use ground beef or pork again.
1 lb. ground turkey
1 chopped onion
1 chopped green pepper
1 minced clove garlic
15 oz. kidney beans, with juice
15 oz. tomato sauce
14 1/2 oz tomatoes, chopped with juice
2 tbsp. chili powder
1 tsp. ground cumin
Salt and pepper to taste
Sauté the first four ingredients in a large, non-stick skillet or Dutch oven until the meat is brown and the vegetables are beginning to get tender. Remove from heat and drain the fat. Add the remaining ingredients and mix well. Reduce the heat to a simmer and let the chili stand uncovered for about 30 minutes. Taste the chili and adjust the seasonings to taste.
Italian Garlic Bread
If you're going to have soup or chili, you may want bread to go with it. Try this Italian Garlic Bread recipe.
1 large loaf Italian bread
2 cloves garlic, minced
2 tsp. olive oil
2 tbsp. grated Parmesan cheese
2 tbsp. parsley
2 tsp. thyme
3/4 tsp. marjoram
1/2 tsp. paprika
In a small bowl, add olive oil to minced garlic and mix it well. In another bowl, add the Parmesan cheese and seasonings, mixing well. On a baking sheet, place a loaf of Italian bread which has been sliced open. Brush the bread with the oil mixture and sprinkle the seasoning on top. Wrap the bread in aluminum foil if you prefer softer bread, or leave it unwrapped for crispy bread. Bake for 10 minutes at 350 degrees.
If you're looking for recipes to warm you, look no further than these five winter-warming recipes for the whole family. Then be prepared to soak in the praise for the great food.