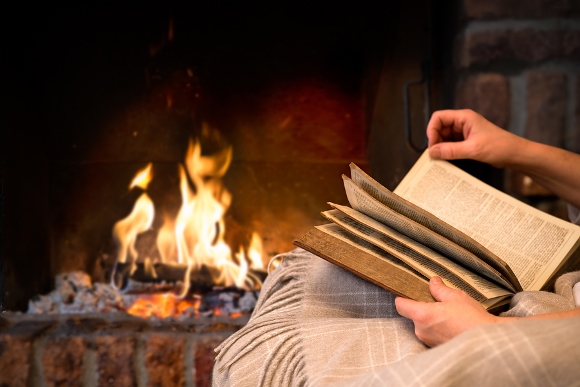 There's something almost dreary about the winter months. The sun may not shine for weeks on end and then there are the snow clouds which make the days seem dark. You may not be able to do anything about the weather outdoors, but decorating and cozying up your home for the dark winter months can make all the difference in the world in your outlook.
Even though it's dark and dismal outdoors, it doesn't mean indoors has to be the same way. In fact, depending upon how much effort you want to expend you can create a different atmosphere for each season of the year. Use some of these decorating tips for the darker months of the year.
Create more light sources to brighten your home. You can do this in a number of ways: place additional table lamps in corners that might be dark, set groups of candles on tables and light them as the day draws to an end, or hang fairy lights throughout the room. Using one or more of these lighting ideas can make a huge difference in how your room looks and how you feel.
You probably aren't prepared to repaint your room when moving from one season to another. Even if you don't want to paint, you can remove some items and add others into the room to give it a totally different appearance and atmosphere. How do you make your room look different during each season? You can change the floors, the walls, the ceiling or the fabric.
Fall colors are usually dark but they don't have to be bold. You can find muted shades of grey, gold, rust, burgundy and orange which will work with most color schemes. Add rich, luxurious fabrics in fall colors. Snuggly blankets and pillows can be placed around the room where you spend the most time. Try to find bright colored fabrics which will help spread natural sunlight if you suffer from Seasonal Affective Disorder (SAD).
Find large rugs in fall colors to add warmth to the room. Not only does a rug anchor your room, it can be used as a focal point and an inspiration to find the right accessories for your room. Throw rugs also help keep your feet warm when you have cold floors. They add texture as well, which can be warm and inviting.
Bring the outdoors in. Even in the coldest part of the year you can find bouquets of flowers. Place them in the areas of your room where you spend the most time. Set out bowls of potpourri (fragrant herbs, flowers and citrus fruits) around the room to fill it with delicious aromas. Natural items are great to add to cozy up your home.
Decorating and cozying up your home for the dark winter months will take a little bit of forethought. You can purchase decorating items at the end of each season while they're deeply discounted. When the winter months get closer you can start changing out items in your home to make it cozy and warm.