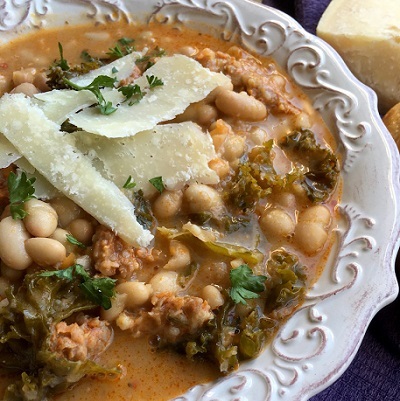 This soup is really delicious and it can be made in a single skillet for easy clean up. It freezes well so you can make larger batches for even easier weekday meals.
Ingredients
3 T. olive oil
2 stalks celery, cleaned and finely chopped
2 large carrots, peeled and finely chopped
1 small white onion, finely chopped
3 cloves garlic, peeled and finely chopped
1 pound bulk spicy pork sausage, crumbled
3 c. chicken or vegetable stock
2 t. oregano, dried
2 t. rosemary, dried
1 t. crushed red pepper flakes
2 cans (15 oz.) cannellini beans, drained and rinsed
1 can (15 oz.) cannellini beans, pureed with liquid from can
3 large kale leaves, tough stems removed and cut into bite-sized pieces
Salt and pepper, to taste
Garnish
¼ c. fresh parsley, chopped
Parmesan cheese, shaved
Directions
In a heavy bottomed pan, heat olive oil over medium-high heat. Add celery, carrots, onions, and garlic to pan and sauté until tender.
Add crumbled bulk pork sausage to skillet and cook until no longer pink inside. Carefully drain excess fat from the pan before adding chicken or vegetable stock. Bring to a boil, and then reduce heat to medium-low. Add oregano, rosemary and crushed red pepper flakes.
Add whole and pureed white beans to skillet. Cover and simmer for 20-25 minutes, stirring occasionally. Add kale and simmer another 15-20 minutes. If soup is too thick, add more stock to thin. If it is too thin, continue cooking until desired consistency is reached.
Garnish with chopped fresh parsley and shaved Parmesan cheese and serve with crusty Italian bread.